"Yet, none of her background information prepares you for the sumptuous sounds this beautiful lady produces.
She is definitely of star quality. 
A big hand for the little lady."       
                                              Grady Harp
The Amazon Reviewer
Vocalist, songwriter and poet Gergana Velinova has inspired international audiences with her diverse artistic talents. With a repertoire extending from her own compositions to Ellington, Jobim or Stravinsky, Gergana is equally comfortable in the world of Jazz, Classical Art Song and Musical Theatre.
She has released six albums featuring her own compositions and arrangements of art songs and jazz classics. Pre-pandemic, Gergana showcased her 2019 album entitled
Could It Be
with an all star band at West Coast venues such Tula's Jazz Club in Seattle, Frankie's Jazz Club in Vancouver and Wood Recital Hall. 
Her previous albums reached critical acclaim: In 2014 The Thief Remix reached #10 on the CMJ Top 40 US Jazz Chart and the Earshot Canadian National Jazz Charts, and in 2015 December Wishing reached #7 on the CMJ top 40 Jazz charts, finding its place among a list of jazz legends.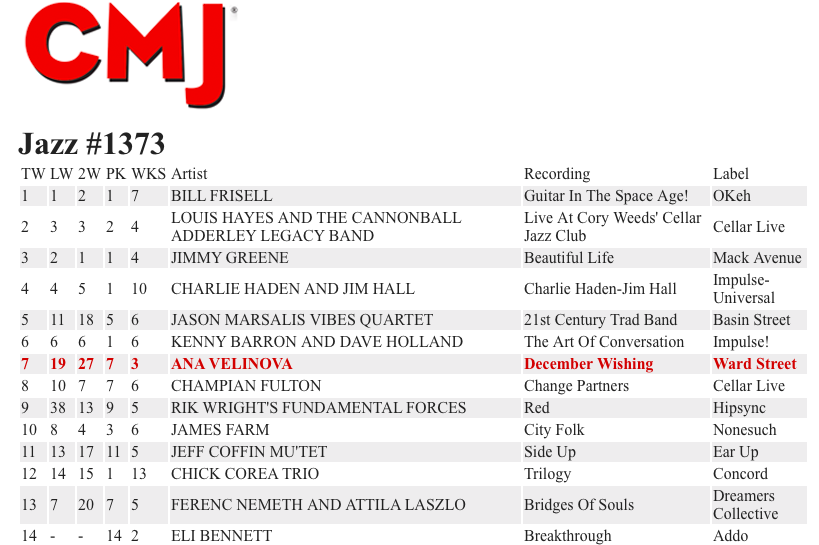 Gergana's Story
A First prize winner of the International Chamber Music Competition "Music and Earth" Gergana is a native of Sofia, Bulgaria. She has lived and performed the US and Canada since 1993 including Los Angelis, Boston, Seattle, Vancouver and New York City. 
Growing up in Sofia, Bulgaria, Gergana comes from a family of musicians and is exposed to music, theatre, creative writing and dance as a child. At the age of 8 she travels on her first European tour as a soloist of the popular children's choir "Pim-Pam" with a full time performing schedule of concerts, recordings and touring. After graduating from the National Music School in Sofia, majoring in Classical Guitar, she leaves her native Bulgaria for Los Angeles to pursue BA in jazz voice at the Musicians Institute of Technology in Hollywood. 
Interested in pursuing a broader range of vocal idioms, in 1995 Gergana moves to Boston to become the first graduate student in the newly established Jazz and Contemporary Music Program at the Longy School of Music. After receiving her Master's Degree in Classical-Contemporary and Jazz Voice Performance, Gergana relocates to New York City where she becomes actively involved in the vibrant artistic community, producing her own monthly shows and collaborating with musicians, composers, dancers and visual artists. While in NYC Gergana continues her vocal education with Metropolitan Opera soprano Stefka Evstatieva with whom she studies opera and classical vocal technique. Her deep love for classical-contemporary music and art song leads her yet to another vocal icon; world-renowned soprano Lucy Shelton who becomes her musical mentor until present.
In addition to her performance career Gergana is well known for her work as a vocal coach and choir conductor. From 2006-20013 she held the position of Head Vocal Jazz Instructor and Conductor of the Vocal Jazz Choir at the Victoria Conservatory of Music in Victoria, Canada. Gergana has worked as a conductor of the VSM Summer Academy Jazz Choir, Eagle Arts Academy Youth Choirs and the One Human Family Gospel Choirs. She is the founder and first conductor of the Bulgarian Children's Choir and School "Gergana" in New York City which was named after her departure to Canada in 2006. 
As an entrepreneur Gergana has produced and 
facilitated numerous concerts, vocal workshops and master classes.
 For further information visit the Teaching page on this site.